Our Team
Nandhini Ashok – Founder Director
At SPAA, Nandhini plays a multi-faceted role as a dancer, a teacher, an event organizer and a philanthropist. As a teacher, Nandhini is the most loved as well as the most feared! Fondly known as 'Nandhini Aunty' or 'Akka', she is a perfectionist and an extremely creative individual. Known for getting bored quickly with older dance items, all her students look forward to her bursts of energy while she is composing something new.
With a teaching career of over 15 years, Nandhini brings the most essential element of dance to SPAA – her passion. This has been constant since she founded SPAA in 1998 with just three students. Today, she trains the advanced batches and dedicates most of her time to training students for their Arangetram. Even with newer teachers joining us, she is constantly there to guide and support all the students, be it in India, or anywhere in the world.
To know more about her journey…..
Read More
Sudha Venkateswaran – Administrator
Her journey in the world of dance began when she enrolled her daughter in Nandhini's class. How her love for dance could grow watching 8 year olds awkwardly stumbling through complicated steps is a wonder, but it did. And as the class matured into a full-blown academy, so did her involvement in it.
Sudha started off occasionally lending a hand during programmes. From there she went on to more administrative jobs like organizing and coordinating programmes. Soon, her love and ear for music prompted her to attend recordings, and help choose and arrange songs.
Today, Sudha's responsibilities in the academy range from event management, research, accounting and general support. Her contribution to SPAA is one of pure dedication and possibly inimitable. She is also a trustee and is an inseparable part of the academy.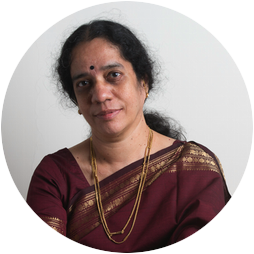 Akriti Grover – Senior Instructor
Akriti took to classical dance at a tender age of four. Since then, she's been committed to the art and continued her practise, despite moving to several cities. Under the tutelage & guidance of Bharat Natyam exponent, Nandhini Ashok, Akriti completed her Arangetram at the age of 15. She has continued training under her for the past 14 years.
Akriti is one of the oldest members of the SPAA team and has performed under this banner at innumerable festivals and events all over the country including the, prestigious, Chennai Dance Festival and International Dance Day amongst others. She has also been invited to various festivals of illustrious colleges of the city as a judge.
Akriti, an all-round personality, has a very interesting background; she is a finance graduate with a Masters degree in International Management from the UK and professional experience in various verticals of the financial sector. At SPAA, she is currently a senior instructor and teaches students of all levels and age groups.
Simran Ajwani – Instructor
Simran believes that "Dance is the Hidden Language of the Soul". Her journey with Dance started 10 years ago when she joined SPAA at the tender age of 6. Back then it was all about fun but now Dance has a different meaning for her.
Her Arangetram was held on 26th September, 2010 at the age of 13. The theme for the same was "Ek Omkar- The one and only one existence" as she firmly believes that God is only one but is known by various names in every religion.
Because of her love for teaching and spreading the art to those who value it, she currently teaches the underprivileged section of our society. Simran was crowned Miss Khsitij 2013. She says, "It is because of my confidence and knowledge about Dance. Dance is my "X-factor" and it has helped me discover who I really am".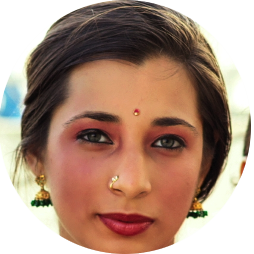 Sonali Kambli – Instructor
Sonali is a professional Bharatanatyam dancer four years Diploma in Bharatnatyam from "Kalakshetra, Rukminidevi Collage of Fine Art", Chennai. She has also completed her BFA (Bachelor in Fine Art) from "Bharatidasan University", Tiruchiriappalli.
Currently working at "Kalamandir Institute" for the last 5 years, Sonali has trained many students for their Arangetram & other competitions. She also trains students for the 'Akhil Bharatiy Gandharva Mahavidyalaya Exams' in theory and practical. Along with that, she is an examiner at the same institution.
Her achievements in Bharatanatyam include performances at Bangalore (Iskcon Temple), Pondicherry, Coimbatore, Chennai, Mumbai & Nepal. She has been associated with SPAA for the last one year as an instructor and her students enjoy the different style that she brings to the Academy.