Founder & Director
NANDHINI ASHOK
"Dance to me is a fulfilling experience"
Founder and the main driving force behind establishing Shree Paavitra Arts Academy (SPAA) for Bharatanatyam. Nandhini is a student of the renowned teacher, Guru Kalyana Sundaram, of Sri Raja Rajeshwari Bharatha Natya Kala Mandir. She has a Bachelor of Arts Degree from Kumar Gandharva University Miraj. She continued to pursue her Master's degree from Bharathi Dasan University, apart from Bachelor of Commerce Degree from Chennai University.
She has been teaching, practicing and propagating Bharatanatyam for more than two decades and has earned a name for herself as a well-known exponent of the form. She is known as a highly innovative choreographer having produced various ballets and dance-dramas not only in Bharatanatyam style but incorporating other dance forms.
Her proficiency in her 'nritaa', 'nritya', 'natya' has won her great acclaim as a dancer and composer. Her productions have received good reviews from the press in India.
Acording to Nandhini " I did not choose dance,dance chose me", To me Dance is my life"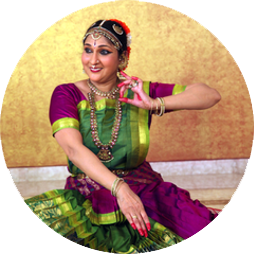 Nandhini has blended Bharatanatayam, Carnatic Music and Thanjore style of painting to make fine arts a holistic, spiritual experience. The achievements are manifold.
• She has performed at the Thirupati Thirumalai Devasthanaam (Mumbai), Chennai music & dance festivals, celebrate Bandra fest.
• She has performed at the Brigadeeshwara Temple, Rajarajeswaram celebrating the 1,000th year of the temple with 1,000 dancers.
• She has given lectures at Beloit, U.S.A and performed in Greece and Singapore
• She has been a judge at several college festivals in Mumbai, Thaka Dimi Tha, Tamil Pesum Kadanayaki
• She is a member of CID and ABHAI
Keep dreaming so that dreams can be realized
Her Journey
With a teaching career of over 20 years, Nandhini Ashok and her students have performed in various dance forums in Mumbai, Chennai, Coimbatore, Singapore, USA and Greece.
Today, she has expanded her work to spreading the awareness of dance to those who are less fortunate than us. She also works with differently abled children at their school and has successfully introduced them to the classical Bharatanatyam Dance form.
Performance Year 2018
PAZHAMANERI TEMPLE ( TRICHY-TAMILNADU)
MUMBAI FEST ( BANDRA- MUMBAI-MAHARASHTRA)
CHEDDA NAGAR MURUGAR TEMPLE (MUMBAI- MAHARASHTRA)
NATYANJALI FESTIVAL (MUMBAI-MAHARASHTRA)
INTERNATIONAL WOMENSDAY –SHANMUKANANDA HALL (MUMBAI-MAHARASHTRA)
Performance Year 2017
NATYANJALI FESTIVAL –CHIDAMBARAM TEMPLE (TAMILNADU)
SAHITYA SANSKRUTI AND KALAMANDAL – VASHI (MUMBAI-MAHARASHTRA)
ISCKON TEMPLE –JUHU ( MUMBAI –MAHARASHTRA)

Performance Year 2016
MOOKAMBIKA TEMPLE ( KOLLUR- KARNATAKA)
Performance Year 2013
– Dussehra performance at Mookambika Temple & Bhajana Samaj.
Performance Year 2012
– Performed at Mookambika Temple.
Performance Year 2011
– Navarathri performance at the Udipi temple and Mookambika, near Mangalore.
Performance Year 2010
– "Jeevan Mukthi" – A ballet on Adi Shankaracharya at The Chennai Dance & Music Festival.
– "Iyarkai Jalangal" – A fusion dance for Chennai Sangamam Pongal festival.
– Conducted a workshop for about 100 children from 10 leading Mumbai Schools introducing classical dance and other art forms
– Awarded By the Rotary Club of Mumbai, Khar for the selfless humanitarian service rendered to the underprivileged in Society in 2010.
– Introduced classical dance to the Unique Academy School in the Erode district of Tamil Nadu.
Performance Year 2009
– Judge at "Thaka Di Mi Ta" – A famous dance program on Jaya TV.
– Interview for "Kaalai Vanakkam" – A television show on Jaya TV.
– "Nachiketa" – A ballet for Aurobindo Ashram at Nehru Centre, Mumbai.
– Performed at Satara Natraja Temple during Shivrathri in Maharashtra.
Performance Year 2008
– Performance at Sur Singar Sansad
– Performed for the Australian High Commission
– "Madurya Bhakti" – A ballet based on the life of Goddess Laxmi at the Chennai Music & Dance Festival
– "Bhakti Bhavam" – A dance composed on Radha, Meera and Andal, the devotees of Krishna at The Chennai Music and Dance Festival.
Performance Year 2007
– Performed at the holy Nataraja Temple of Chidambaram, Tamil Nadu.
– Performed on behalf of "The Unique Academy", at Erode Club Melanj Hall, Erode.
– "5 Elements of Nature" – A contemporary musical composition for the International Audience present at the 21st International Dance Congress at Greece.
Performance Year 2006
– "Kaavyam" – A Dance Ballet composed on the verses from Jayadeva's Geeta Govindam at The Chennai NRI Music & Dance Festival.
Performance Year 2004
– "Purari Murari Samarpanam" presented for the Rotary Club, Mumbai for Fund Raising.
Performance Year 2003
– "Celeberate Bandra" – Festival in Mumbai
– "Dasavatharam – Ten Incarnations of Lord Vishnu" presented at Ladies Network Welfare Association (LNWA), Mumbai
Performance Year 2002
"Vannakkam" – A Dance Ballet presented at the inauguration of R.K. Narayan Festival at Arya Vidya Mandir School, Mumbai.
Arangetrams
Nandhini is a pioneer in creating unique Arangetram performances for her students. Building on the base of the traditional Arangetram repertoire, Nandhini chooses themes based on the child, her interests and a subject that she can portray well. These are rare innovations and Nandhini has successfully woven regional themes and songs into Arangetram performances without compromising on the essence of the classical repetoire of Bharatanatyam